President Holds Advantage in 14 of 15 Top Markets;
Only 7.8 Percent of Presidential Ads Positive;
FCC electronic disclosure leaves out more than 50% of federal ads
(MIDDLETOWN, CT) Oct. 3, 2012 – In the three-week period since the parties' national conventions, Barack Obama and his party and interest group allies have continued to dominate the airwaves in the battleground presidential states. From September 9 to September 30, Obama held an ad advantage in 14 of the 15 most advertised media markets in the key states of Virginia, Ohio, and Florida (Table 1). In the top 15 markets, pro-Romney advertising outpaced pro-Obama advertising only in Las Vegas, Nevada.  (At the end of this report is a listing of advertising in all battleground media markets, Table 15.)

"The heavy advertising from the Obama campaign has challenged the assumption that Romney-friendly outside groups would saturate and dominate the airwaves in key markets," said Erika Franklin Fowler, co-director of the Wesleyan Media Project.
In fact, Obama and his allies aired 1,800 more ads than Romney and his allies in Denver; 1,700 more in Norfolk, Virginia; and 1,500 more in Orlando–all in the last three weeks. "The heavy Obama advantage may be one reason why polling in battleground states has moved against Romney in recent weeks," Fowler said.
Indeed, Romney was heavily reliant on outside groups to sponsor his advertising.  For instance, one reason pro-Romney ads outnumbered pro-Obama ads in Las Vegas was that outside groups sponsored over 2,900 ads in that media market in the last three weeks (more than double the number sponsored by the Romney campaign).
The Democratic National Committee did not purchase broadcast advertising in these top media markets in the past three weeks, while the Republican National Committee has made some limited purchases backing Romney.
"The absence of party support in the air war for both candidates may have to do with a few key factors," said Michael Franz, co-director of the Project.  "First, the DNC is likely spending most of its energy on base mobilization off the air, such as with voter contact drives.  Second, the RNC coordinated on a significant amount of advertising with Romney, and independently supported him as well, throughout the first part of the general election.  The Republican Party may have shifted its focus to congressional ads in the fall campaign, or may be conserving resources for a late push."
(See Table 3 for Republican Party ad totals in the full general election period.)
Table 1: Advertising in Presidential Race (September 9-30)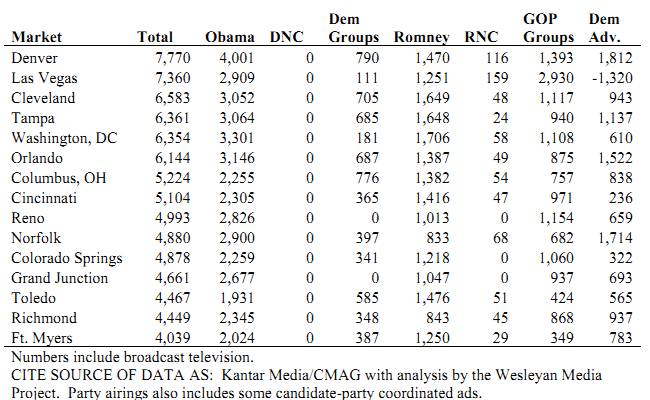 Figure 1: Democratic Ad Advantage in Presidential Race by Media Market (September 9-30)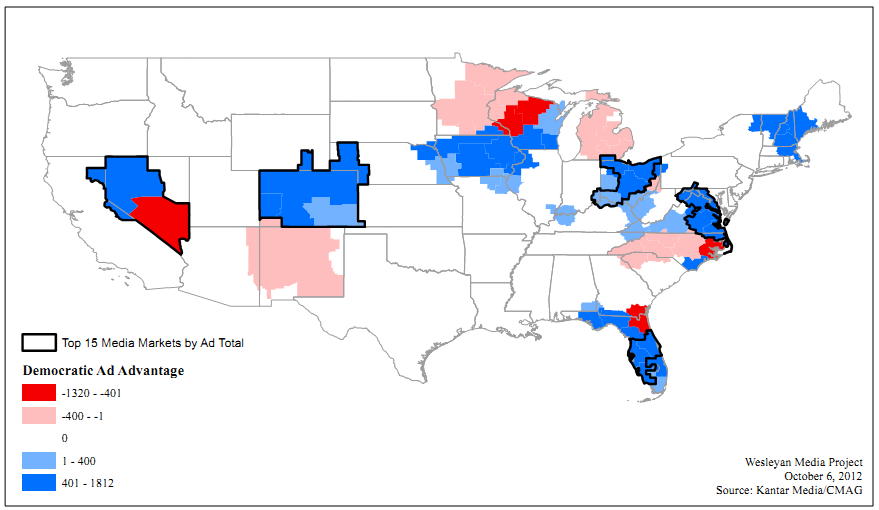 The Obama Campaign has topped all other spenders in the presidential race over the past three weeks, though it has received some help from Priorities USA Action (Pro-Obama SuperPAC), SEIU COPE and the Planned Parenthood Action Fund.  In addition to the Romney campaign, American Crossroads and Crossroads GPS have aired substantial advertising in support of Romney.

Table 2: Top Spenders in Ad Race (September 9-30)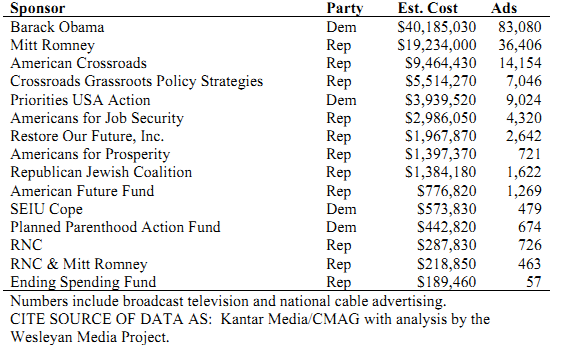 Since the start of the general election campaign in April, when Romney effectively secured the Republican nomination, the biggest spender on presidential advertising, by far, has been the Obama campaign, which has invested an estimated $164 million into 363,000 ads (Table 3).  The Romney campaign, by contrast, has spent only about a third of that total, $57 million, on 127,000 ads.

Table 3: Top Spenders in Ad Race (General Election Campaign)


Table 4 provides some historical context, comparing ad totals and costs for the September 9-30, 2012, period with the same period in 2008.  Note that both the Democratic and Republican candidates this year are airing more ads and spending more on those ads than did their counterparts in 2008. Ad spending supporting the Democratic candidate is up 20 percent over 2008, while ad dollars supporting the Republican are up 93 percent over 2008 level.
In both years, however, Obama had significant advantages, though the gap between Romney and Obama is smaller than that between McCain and Obama.  Moreover, whereas McCain relied heavily on coordinated ads with the Republican Party, Romney has relied far more on outside groups.  Spending by groups in support of the GOP nominee in 2012 is up over 3,000 percent from 2008.

Table 4: Ad Totals and Spending in 2008 and 2012 (September 9-30)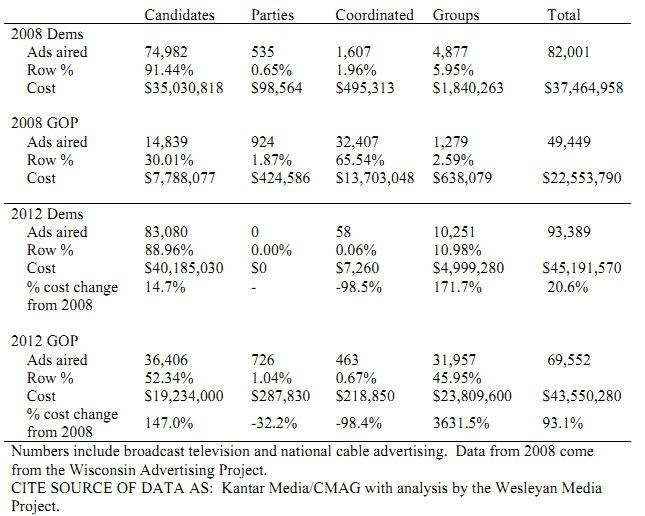 Indeed, Figure 2 shows that total ad volumes in the 2012 presidential general election have already greatly exceeded ad volumes to this point in 2004 and 2008.
"If advertising in the presidential race continues at its current pace, the number of presidential ads aired this year will eclipse 2004 and 2008 totals by the second week of October," said Travis Ridout, co-director of the Wesleyan Media Project.  "The sky is the limit here on what the final number will be by November 6th."

Figure 2: Volume of Presidential Advertising in 2004, 2008 and 2012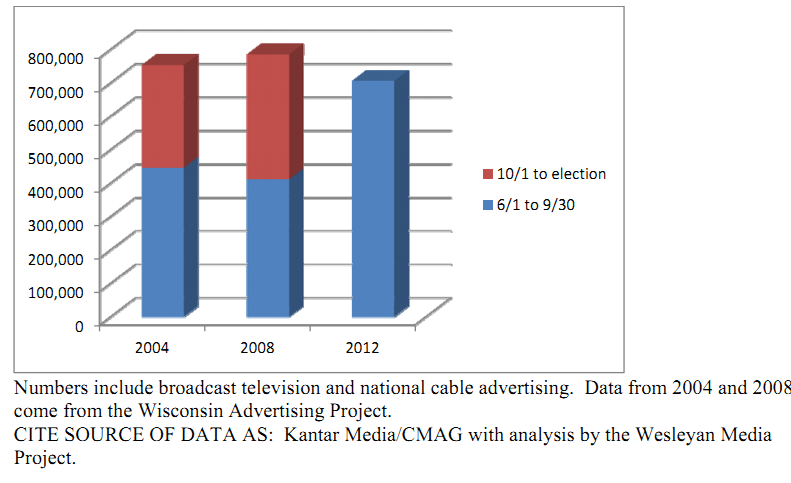 Most Negative Campaign Since 2000
By recent historical standards, the race for the presidency in 2012 has been an extremely negative one.  Table 5 shows that in the past three weeks, only 7.8 percent of ads aired in the presidential race have been positive—mentioning solely the favored candidate.  This compares to 30 percent positive in 2000 and 2008 and 19 percent positive in 2004.  Fully 60 percent of ads over the past three weeks have been negative—mentioning solely the opposition candidate.  The remaining 32 percent of ads have been contrast ads, those that mention both the favored candidate and the opposition candidate.
Going back to June 1, the relative negativity of the 2012 presidential campaign is even starker.  Just 14 percent of presidential ads so far this year have been positive, down from 54 percent in 2000, 35 percent in 2004 and 32 percent in 2008.  Fully 62 percent of ads this year have been pure attacks.
"It will come as no surprise to those who have been bombarded with advertising in key markets, but 2012 is another record-setting year in terms of the amount of negativity we're seeing in the presidential race," said Erika Franklin Fowler, co-director of the Wesleyan Media Project. "The rise in negativity also means that there is a lot of substantive policy-based information on the air to help inform voters."

Table 5: Tone of Presidential Race (2000-2012)


Table 6 shows the partisan breakdown of tone for the September 9-30 period, comparing 2012 with previous election years.  This year, pro-Obama spots are more likely to use pure attacks than pro-Romney spots, and pro-Romney spots are slightly more likely than pro-McCain ads were in 2008 to use pure attacks (and much more likely to use contrast spots than McCain).

Table 6: Tone in Presidential Advertising by Favored Candidate (2000-2012)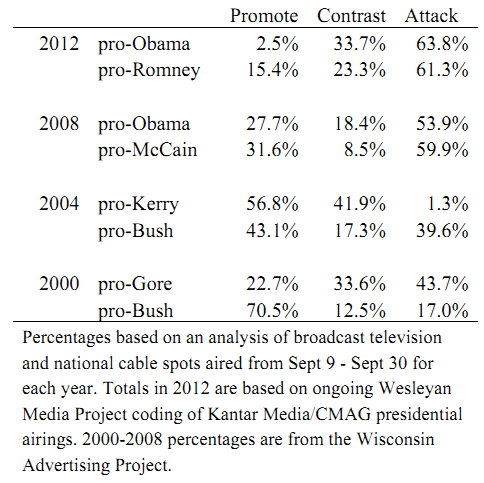 Parties Similarly Armed in Battle for Senate, House
Ad spending during the past three weeks on races for the U.S. House and U.S. Senate is nearly even across the parties.  Spending by or on behalf of Republican Senate candidates was $26.8 million, which edged out spending by or on behalf of Democratic Senate candidates at $25.5 million.  Ad spending on behalf of Republican and Democratic candidates for the House was almost even, at $24 million for each side.

Table 7: Ad Spending in House and Senate Races (September 9-30)



Looking at individual Senate races, the races in Ohio, Massachusetts and Virginia garnered the most ad spending over the past three weeks.  Notably, the Republican candidates in Ohio, Connecticut, and Pennsylvania are benefiting from large advantages in ad spending, while Democratic candidates in Arizona and Missouri have benefited from considerably more ad spending.
The last column shows the percentage of advertising in the race sponsored by outside groups.  This is over 50 percent in Ohio and Virginia and over 40 percent in Florida, Nevada, Indiana and Wisconsin.  The Warren-Brown pact in the Massachusetts Senate race was still holding as of the end of September; it was the second most expensive Senate race in the last three weeks but had no spending by outside groups.

Table 8: Top Senate Races by Spending (September 9-30)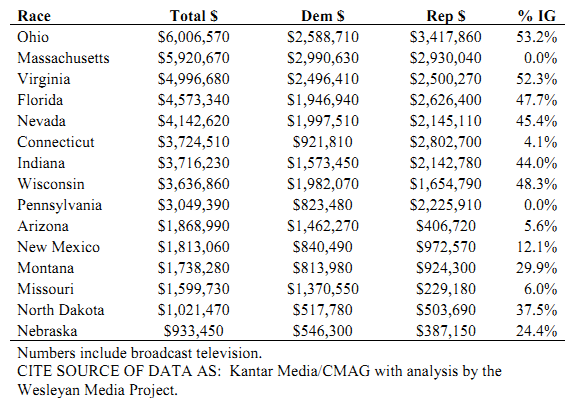 Table 9 organizes the Senate races by the total number of ads aired (by candidates, parties and outside group sponsors) over the past three weeks.  Montana is at the top of the list, with over 19,000 ads aired.  The state is followed by Wisconsin, Ohio, Massachusetts and Indiana.

Table 9: Top Senate Races by Ad Counts (September 9-30)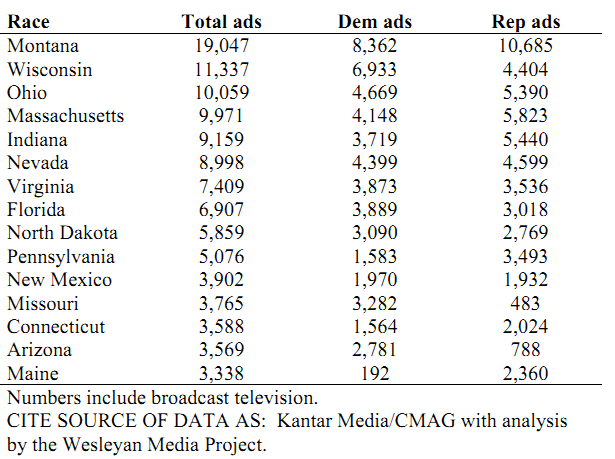 Top House races in terms of spending are shown in Table 10.  The race to serve Ohio's 16th congressional district, which features an incumbent versus incumbent matchup thanks to new district lines, tops the list with almost $2.2 million worth of spending in the past three weeks.

Table 10: Top House Races by Spending (September 9-30)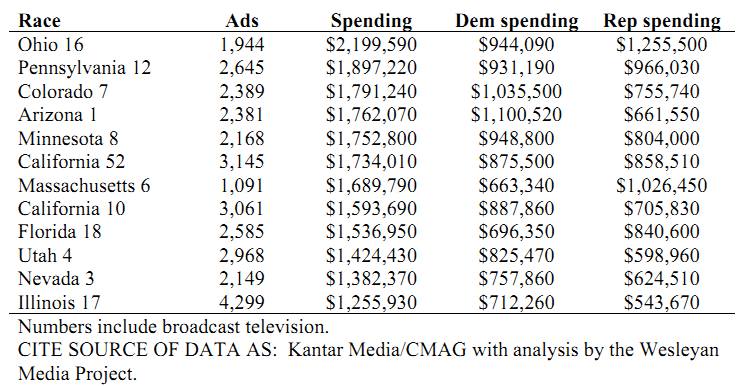 Table 11 shows the top 20 outside groups involved in House and Senate races the past three weeks, along with the races in which they were involved.  Crossroads GPS was the most heavily involved outside group, spending almost $6 million in 8 closely-contested Senate races.  The House Majority PAC, U.S. Chamber of Commerce and AFSCME were also involved in multiple races.

Table 11: Spending and Ad Totals of Top 20 Outside Groups (September 9-30)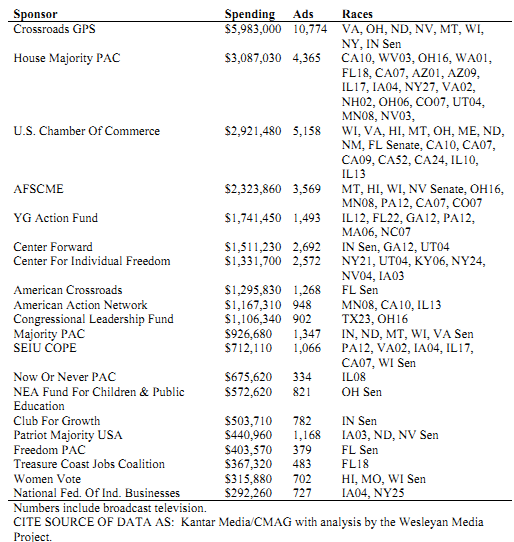 Online Disclosure Misses Many Ads
Recent FCC rules require that certain television stations in the 50 largest media markets in the United States make their public files, which detail ad spending by sponsor, available online.  While such a requirement goes some way toward increasing transparency about who is paying for political advertising, it still misses a lot.  Indeed, there are 160 media markets that are not covered by the disclosure requirement, which went into effect in early August.  The Wesleyan Media Project looked to see what was not easily available online and found that there were 447,000 ads aired in the presidential, Senate and House races, at an estimated cost over $140.6 million that were not covered under the electronic disclosure requirements (Table 12).

Table 12: Costs and Ad Volumes in "Disclosure" and "Non-Disclosure" Media Markets



Ads Focus on a Variety of Issues and Themes
Since the Wesleyan Media Project's mid-September release, the focus of presidential advertising on both sides has shifted.  Table 13 shows the top 15 issues in pro-Romney and pro-Obama ads.  Nearly every pro-Romney spot (93 percent) has mentioned jobs, while just over one in three (37 percent) of pro-Obama ads mention the topic.  Almost one out of every two (48 percent) pro-Obama ads have mentioned taxes, while a similar percentage of pro-Romney spots mention health care (47 percent) and taxes (41 percent).  China has dropped out of the top 15 issues on the Democratic side while the mention of China increased on the Republican side (from 4 percent in the general through 9/8 to 32 percent in the last three weeks).  Similarly, pro-Obama spots have increased their focus on energy policy, previously not among the top 15 issues, while pro-Romney ads have decreased their focus on energy (from 8 to 2 percent).

Table 13: Top 15 Issues Mentioned by Political Party in Presidential Race (September 9-30)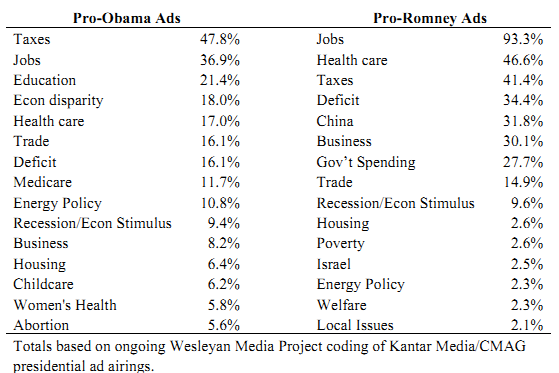 Not only is 2012 the most negative campaign in recent history, but it also has featured an overwhelming number of appeals to anger.  Table 14 displays the top emotional appeals addressed in presidential advertising.
"It's clear there is a lot of anger out there this year," said Travis Ridout, co-director of the Wesleyan Media Project.  "Anger was the most common emotional appeal made in presidential advertising in the last three weeks, and that was true for Obama and Romney ads," said Ridout.

Table 14: Emotional Appeals in Presidential Advertising (September 9-30)


Sizable percentages of GOP-leaning interest group ads in the last three weeks have also discussed "hope" (17 percent) and "change" (15 percent), and Republican Party ads have all featured the word "change" (100 percent) while pro-Obama ads have notably avoided either term.  Pro-Democratic interest groups describe Obama as "hard working" in nearly one out of every three of their ads (29 percent).  Romney's own ads have tried to tap into empathy, conveying a sense that the candidate "cares" about average Americans in more than a quarter of all airings (28 percent). GOP-leaning interest groups have painted Obama as "dishonest" (19 percent of airings).  And it is not just GOP presidential airings that are going after the president; more than a quarter (25.2 percent) of U.S. House and U.S. Senate advertising this year has featured Obama in a way to show disapproval or opposition.

Table 15: Volume and Cost of Advertising in Battleground States (September 9-30)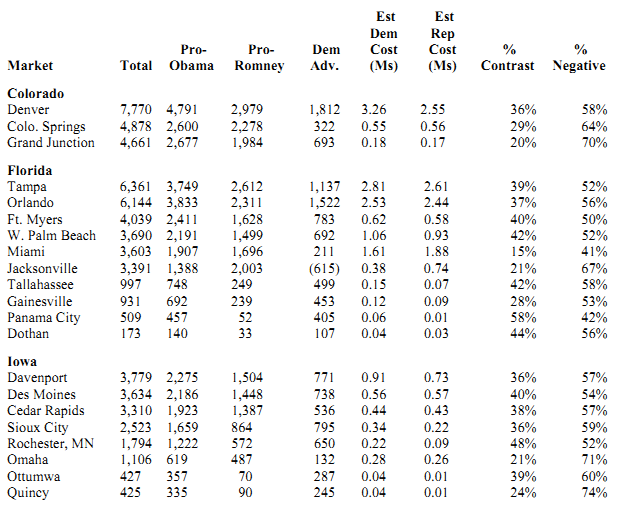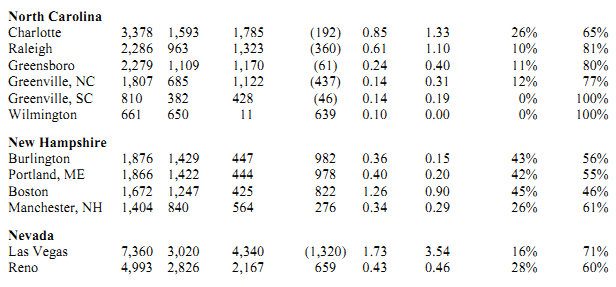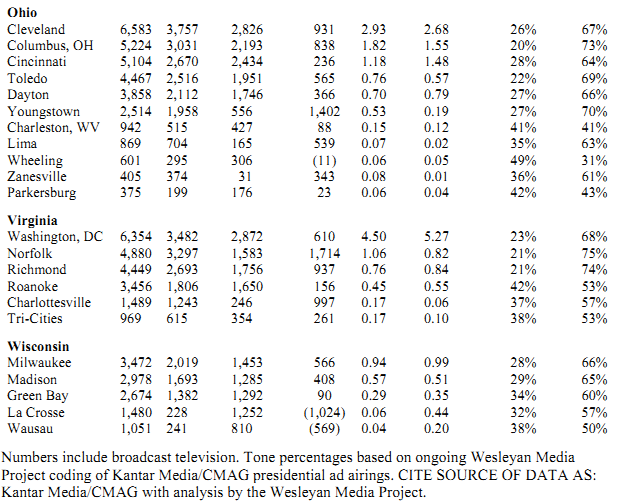 About This Report
Data reported here do not cover local cable buys, only broadcast television and national cable buys.  All cost estimates are precisely that: estimates. Content information is based on ongoing Wesleyan Media Project coding of Kantar Media/CMAG video, which is 95.5 percent complete for presidential ads between 9/9 and 9/30/12 and 96.8 percent complete for the general election period from 4/25 through 9/30/12. Intercoder reliability checks on coding found 97 percent agreement between independent assessments of tone for a Kappa score of 0.89.
The Wesleyan Media Project provides real-time tracking and analysis of all political television advertising in real-time. Housed in Wesleyan's Quantitative Analysis Center – part of the Allbritton Center for the Study of Public Life – the Wesleyan Media Project is the successor to the Wisconsin Advertising Project, which disbanded in 2009.  It is directed by Erika Franklin Fowler, assistant professor of government at Wesleyan University, Michael M. Franz, associate professor of government at Bowdoin College and Travis N. Ridout, associate professor of political science at Washington State University.
The Wesleyan Media Project is supported by grants from The John S. and James L. Knight Foundation, the Rockefeller Brothers Fund, and Wesleyan University.  Data provided by Kantar Media/CMAG with analysis by the Wesleyan Media Project using Academiclip, a web-based coding tool.
Periodic releases of data will be posted on the project's website and dispersed via Twitter @wesmediaproject. To be added to our email update list, click here.
For more information contact:
Heather Tolley-Bauer at 860-685-2768, 860-918-1868 (cell) or htolleybauer at wesleyan.edu
Lauren Rubenstein at 860-685-3813, 203-644-7144 (cell) or lrubenstein at wesleyan.edu
Wesleyan University, in Middletown, Conn., is known for the excellence of its academic and co-curricular programs. More than 2,700 undergraduates and over 200 graduate students from around the world pursue their classroom studies, research projects, and co-curricular interests in ways that are demanding and intensely rewarding.
The John S. and James L. Knight Foundation supports transformational ideas that promote quality journalism, advance media innovation, engage communities and foster the arts. We believe that democracy thrives when people and communities are informed and engaged. For more, visit www.knightfoundation.org.
The Rockefeller Brothers Fund advances social change that contributes to a more just, sustainable, and peaceful world.  The Fund's grantmaking is organized in three thematic programs that support work in the United States and at the global level: Democratic Practice, Sustainable Development, and Peacebuilding; and in three pivotal place programs that address these themes in specific contexts: New York City, Southern China, and the Western Balkans. For more, visit www.rbf.org.