Pro-Romney Ads Cut into Obama Advantage in Last Week of Oct;
Obama campaign outspends Romney campaign 2.6:1 on ads in the general election period;
Republican outside groups make up the difference for Romney
(MIDDLETOWN, CT) Nov. 2, 2012 – As the 2012 campaign comes to a close, the number of ads aired in the presidential general election passed the one million mark last week.  As of October 29, the two candidates, their party committees, and supporting interest groups had sponsored 1,015,615 ads since June 1, a 39.1% increase over 2008 (730,041) and a 41% increase over 2004 (720,064), during the same period.  See Figure 1.

Since Mitt Romney effectively secured the Republican nomination in April, the campaigns, parties and outside interest groups have sponsored just over 1.1 million presidential ad airings on local broadcast and national cable.
"This is, by far, the most advertising we've seen in a presidential election," said Erika Franklin Fowler, co-director of the Wesleyan Media Project.  "Everyone expected ads to be more abundant this election than in 2008, especially with super PAC involvement and both candidates opting out of public funding, but passing the one million mark is a real milestone."
Because these numbers include only ads aired through October 29, the total number of ads aired during the entire 2012 presidential campaign will still include 8 days of additional advertising (excluding Election Day).  In the 8-day period between October 22 and 29, candidates, the two parties, and all of the affiliated outside groups aired just shy of 100,000 ads.  Between Oct 1 and Oct 29, the total number of ads aired in the presidential race was 309,000.
Figure 1: Ads in Presidential Race Surpass 1 Million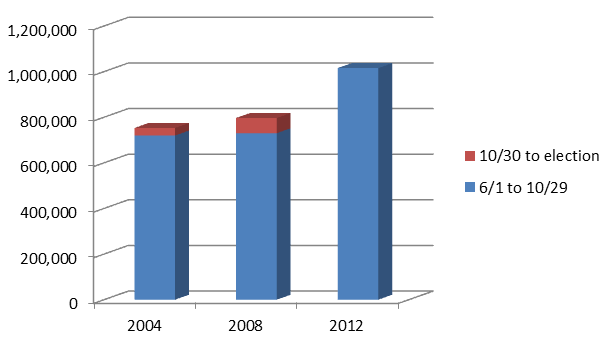 Throughout the general election, President Obama has led in the total number of ads aired.  Total airings by the top ad sponsors between April 11 and October 29 are shown in Table 1. The Obama campaign has sponsored about 50 percent of all of the ads aired and has out-advertised the Romney campaign by a 2.6 to 1 margin in both ads aired and estimated money spent.  However, in adding up all ads aired on behalf of either candidate, pro-Obama ads outnumber pro-Romney ads by just fewer than 50,000 (574,557 to 526,811).  Governor Romney was aided by roughly 270,000 ads from outside groups (51 percent of all pro-Romney ads aired) in the general election, including 60,000 from Restore Our Future, the super PAC organized to support his election, and over 130,000 from the organizations Crossroads GPS and American Crossroads.
"The level of support for Governor Romney from outside groups is simply incredible," said Michael Franz, Project co-director.  "Groups supporting Romney out-advertised the candidate and party committees.  That is unprecedented in a presidential election."
In the week between October 22 and 29, pro-Romney ad sponsors have become much more competitive with the Obama campaign.  Of the top 25 media markets, pro-Romney ads outnumber pro-Obama ads in 9 of them.  See Table 2.  This still suggests an Obama advantage overall, but in our prior reports through the fall, Romney was generally behind in total ads in all but a small handful of markets.
Figure 2 displays the partisan advantages graphically, with the top 15 media markets in total volume outlined in black.  Our previous analysis, which examined the October 1-21 period, found ad advantages for Obama in most of the high-volume media markets, but in the past week, pro-Romney advertisers have taken the advantage in some key markets, including Cincinnati, Tampa, and Miami.  And Romney ads continue to outnumber Obama ads in some of the smaller media markets, including some in Minnesota, Michigan and New Hampshire.

Figure 2: Partisan Ad Advantages in the Presidential Race (October 22-29)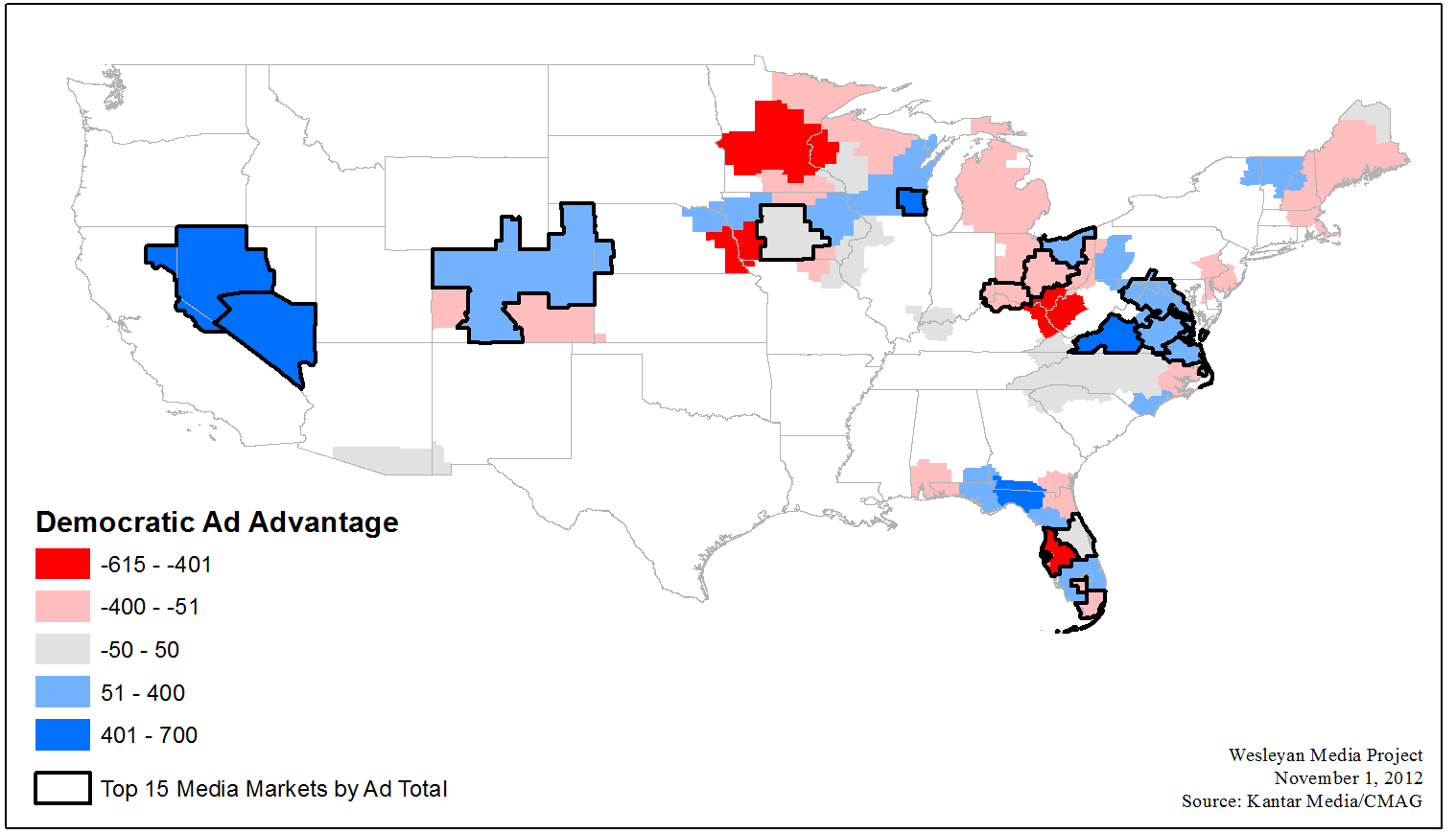 Figure 3 shows total presidential ad airings in each media market since April 11.  Las Vegas, Nevada, with over 51,588 ad airings, has seen the most advertising of any media market in the country.  It is followed by Denver (48,722 airings), Cleveland (48,722 airings), Orlando (40,218 airings) and Tampa (40,154 airings).
Figure 3: Total Ad Airings in the Presidential Race by Market (April 11-October 29)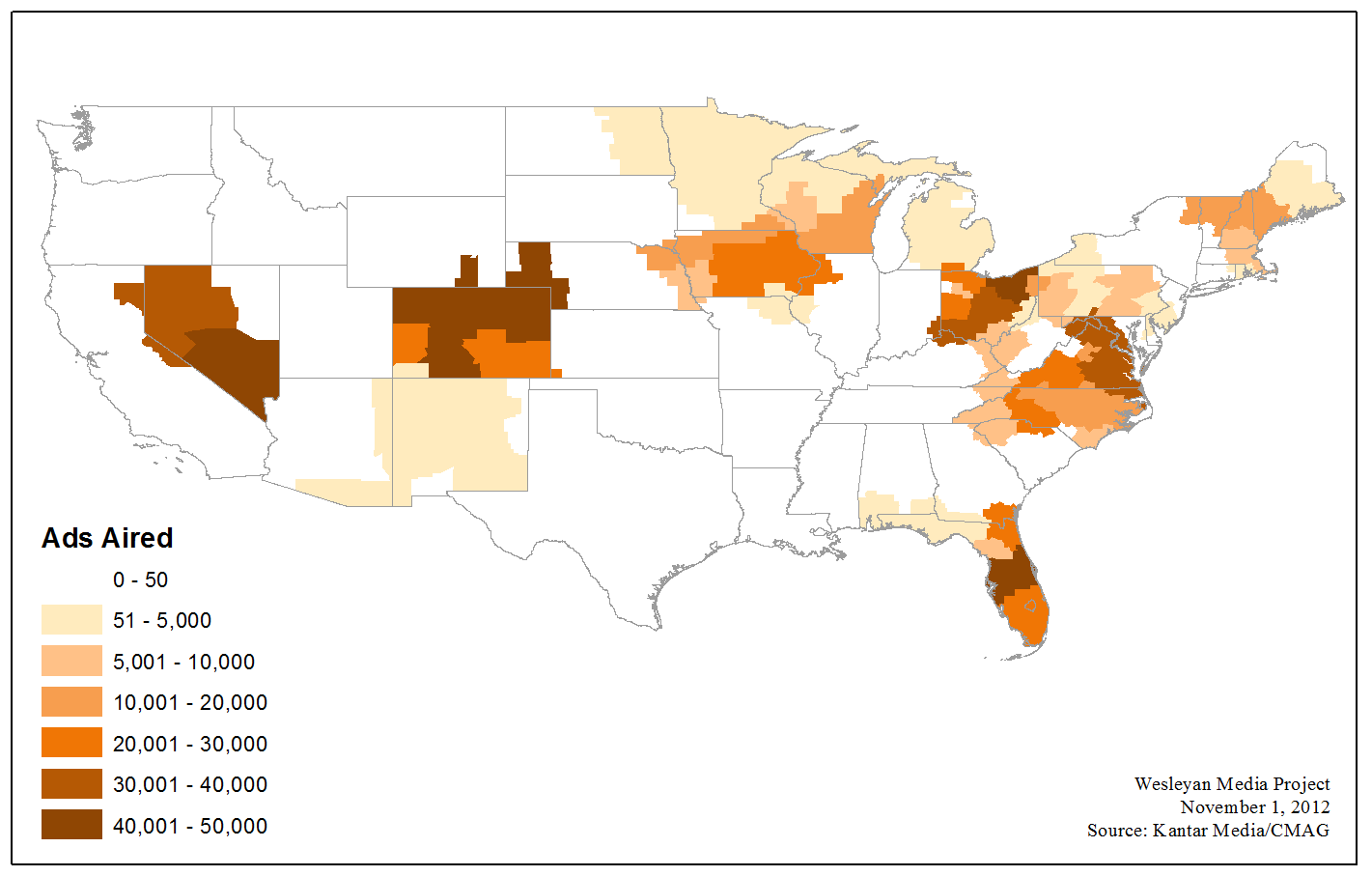 Obama Campaign Is Top Spender
Table 3 reports the top spenders in the October 22-29 period.  The Obama campaign continues to top the list, with over 40,000 ads aired, but Restore Our Future, the Romney campaign, and American Crossroads together have essentially matched the Obama campaign in total ads.
One of the interesting features of the general election to this point has been the high prices that outside groups have been paying for ads (the consequence of their ineligibility for the lowest unit rate cost).  This is apparent in the estimated cost totals in Table 3.  Romney aired 20,000 ads for about $13 million, but Restore Our Future spent slightly more for about half the total in ads.
"Given the stiff competition for airtime in battleground states, and the resulting rise in the prices that outside group sponsors are paying, it is starting to dawn on political contributors that sending their money to these groups may not be the most efficient way to get their favored candidates elected," said Travis Ridout, co-director of the Wesleyan Media Project.  "I suspect that contributors may re-evaluate their giving patterns before 2016 rolls around."
About This Report
Data reported here do not cover local cable buys, only broadcast television and national cable buys.  All cost estimates are precisely that: estimates. Content information is based on ongoing Wesleyan Media Project coding of Kantar Media/CMAG video.
The Wesleyan Media Project provides real-time tracking and analysis of all political television advertising in real-time. Housed in Wesleyan's Quantitative Analysis Center – part of the Allbritton Center for the Study of Public Life – the Wesleyan Media Project is the successor to the Wisconsin Advertising Project, which disbanded in 2009.  It is directed by Erika Franklin Fowler, assistant professor of government at Wesleyan University, Michael M. Franz, associate professor of government at Bowdoin College and Travis N. Ridout, associate professor of political science at Washington State University.  Laura Baum is the Project Manager.
The Wesleyan Media Project is supported by grants from The John S. and James L. Knight Foundation, the Rockefeller Brothers Fund, and Wesleyan University.  Data provided by Kantar Media/CMAG with analysis by the Wesleyan Media Project using Academiclip, a web-based coding tool.
Periodic releases of data will be posted on the project's website and dispersed via Twitter @wesmediaproject. To be added to our email update list, click here.
For more information contact:
Lauren Rubenstein at 860-685-3813 or lrubenstein at wesleyan.edu
Wesleyan University, in Middletown, Conn., is known for the excellence of its academic and co-curricular programs. More than 2,700 undergraduates and over 200 graduate students from around the world pursue their classroom studies, research projects, and co-curricular interests in ways that are demanding and intensely rewarding.
The John S. and James L. Knight Foundation supports transformational ideas that promote quality journalism, advance media innovation, engage communities and foster the arts. We believe that democracy thrives when people and communities are informed and engaged. For more, visit www.knightfoundation.org.
The Rockefeller Brothers Fund advances social change that contributes to a more just, sustainable, and peaceful world.  The Fund's grantmaking is organized in three thematic programs that support work in the United States and at the global level: Democratic Practice, Sustainable Development, and Peacebuilding; and in three pivotal place programs that address these themes in specific contexts: New York City, Southern China, and the Western Balkans. For more, visit www.rbf.org.