Two-thirds of Senate GOP and Nearly Half of Dem Advertising Sponsored by Outside Groups;
Almost 60 percent of Group Spending is Undisclosed Dark Money
(MIDDLETOWN, CT) April 29, 2014 – With control of the U.S. Senate at stake, advertising in senatorial races is off to an early start, with 109,701 airings at an estimated $43.1 million spent on television ads so far, a 45 percent increase over ad airings in Senate races at this point in the cycle in 2012. Outside groups are responsible for the majority of spots on the airwaves in Senate campaigns (59 percent of airings, a 64 percentage jump over 2012 levels). Just over two-thirds (67 percent) of ads favoring Republican Senate candidates were aired by outside groups, compared to almost half (49 percent) of the ads favoring Democratic Senate candidates.
What is more, a Wesleyan Media Project analysis, in partnership with the Center for Responsive Politics, reveals that over half of the group-sponsored ads aired so far are so-called "dark money" ads (see Figure 1). In Senate races, 59 percent of interest group airings were sponsored by 501c3, 501c4 and 501c6 groups, which are not required to disclose their donors. In House races, the equivalent percentage is 57 percent.
(Read more about the Wesleyan Media Project's 2014 ad analysis work, and our grant from the John S. and James L. Knight Foundation here.)
"The 2014 campaigns are currently dominated by interest group advertising," said Erika Franklin Fowler, co-director of the Wesleyan Media Project. "And the bulk of the interest group money is coming from dark money groups who don't disclose their donors."
Table 1 provides total ad counts by sponsor in Senate races in the current and the 2012 election cycle, including all ads aired through April 24 in each year. Table 2 provides the same information for House races.
Republicans have benefited more from interest group advertising than Democrats despite an increase in Democratic group advertising this year over 2012. In races for Senate, groups have aired about 24,000 ads supportive of Democrats compared to about 41,000 ads supportive of Republicans. In races for the U.S. House, Democrats have benefited from just over 8,000 group-sponsored ads compared to over 12,000 group-sponsored ads on the Republican side.
The top-spending group is Americans for Prosperity, a Republican-leaning group that has aired almost 22,000 ads at an estimated cost of $9 million (Table 3). The group has been active in nine races for Senate and nine races for the U.S. House. They are followed by Senate Majority PAC, with $4.3 million in spending. Independence USA PAC, which is third on the list, advertised in two special elections in 2013. Fourth on the list, with $1.4 million in spending, is House Majority PAC.
Figure 2 displays graphically the volume of campaign advertising in U.S. House and U.S. Senate races for 2013 through April 24, 2014 and outlines all markets where interest group advertising makes up more than 75 percent of the total airings. As shown by the figure, in several markets throughout the country, interest group advertisers are drowning out the voices of all others.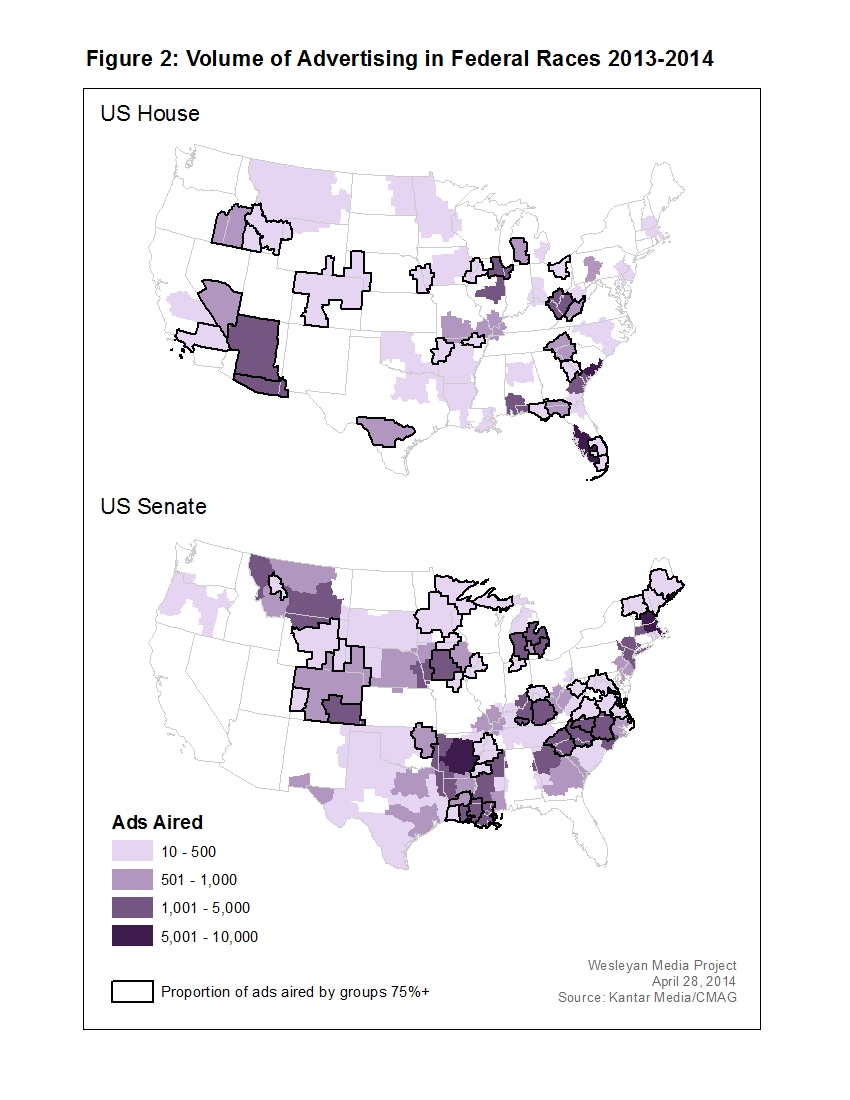 Table 4 shows the top ten Senate races by ad count. All ten of these races have already seen at least 5,000 ad airings, with North Carolina topping the list. Almost 15,000 ads, costing $6.3 million, have aired in the Senate race in the Tar Heel State. Part of the reason for the influx of ads is a competitive Republican primary. The special election in Massachusetts last year (both the April 30 primary and June 25 general election) saw over 12,000 ads, while Kentucky's 2014 race, featuring incumbent Senate Majority leader, Mitch McConnell, has drawn almost 12,000 ads to-date. The table in the appendix provides a full list of ad sponsors, including the number of ads aired and dollars spent, in all competitive Senate races.
In many of the races, the large volume of advertising is driven by group sponsors. In North Carolina, groups sponsored 90 percent of the ads, and groups have sponsored more than three in four ads in Michigan, Louisiana, Kentucky and Alaska. "Up to this point, outside groups are controlling the issue agenda in many Senate races. I almost feel sorry for the candidates as their voices are being drowned out," said Travis Ridout, co-director of the Wesleyan Media Project.
One reason for the onslaught of outside group spending may be that such ads work. "Research demonstrates that group-sponsored advertising can be more effective than candidate advertising," said Michael Franz, co-director of the Wesleyan Media Project. "This is especially true when people know very little about the group except that it has a nice name—and thus they perceive these groups to be more credible than the candidates running for office," Franz explained. Indeed, research from Ace Metrix, a company that assesses the effectiveness of political ads and a Wesleyan Media Project partner, also reveals that some of the highest-testing ads this election season have been sponsored by outside groups.
The same figures are reported in Table 5 for the U.S. House races. Ad spending in many House races on the ballot in November 2014 is not heavy yet; many of the races on the list in Table 5 are special elections that have already been held. Still, Democrat Nick Rahall's seat in West Virginia has been heavily targeted by advertisers. Indeed, almost all of the spending in that race has come from interest groups, both Republican and Democratic. Groups have also entered into the Republican primary race in Idaho's second congressional district, where incumbent Mike Simpsons faces a challenge. All of the advertising in that race, along with Arizona's second congressional district, has come from interest groups.
Americans Know Little About Top Group Advertisers
Although interest groups have dominated advertising so far, Americans know little about them—and the vast majority of Americans have not even heard of the groups responsible for many of the electioneering ads on television. A survey commissioned by the Wesleyan Media Project reveals that there are only three interest group ad sponsors that most Americans have heard of: Planned Parenthood, the National Rifle Association and the U.S. Chamber of Commerce. Table 6 reports the percentage of Americans who have never heard of each of 20 interest group advertisers. Fifty-six percent of Americans reported that they had never heard of Americans for Prosperity, in spite of the group's being the top ad sponsor in the current election cycle. (Notably, this group was also quite active in the 2012 presidential election, airing over 44,000 ads in the fall of 2012.)  Fully 81 percent of Americans reported never having heard of Club for Growth, and nearly three quarters (74 percent) of Americans reported never having heard of Crossroads GPS, two of the biggest advertisers in past election cycles.
"That most Americans haven't even heard of the top advertisers this year is troubling for the prospect of accountability," said the WMP's Fowler. "How can citizens hold groups responsible for the content of their ads if they don't know anything about the sponsor?"
Advertising Mentioning the Affordable Care Act
As expected, anti-Affordable Care Act messaging is shaping up to be one of the largest issues of the 2014 midterms. Over 187 unique ads (82 for U.S. House and 105 for U.S. Senate) contained a message against the health care law, including 21 new spots that started airing on April 23, suggesting that the anti-ACA onslaught may ramping up. The bulk of this activity to date has come from Americans for Prosperity, which has included an anti-ACA message in every one of its 21,706 airings.
To date, 35 percent of ads (38,392 airings) in U.S. Senate races and 29 percent of ads (16,009 airings) in U.S. House races contained an anti-ACA message. However, there is wide variation in the extent to which a particular race is focused on the health care law and its roll-out. Figure 3 displays the variation in volume (top panel) and proportion (bottom panel) of anti-ACA messaging in markets throughout the country. In contrast, messaging explicitly in favor of the ACA is virtually non-existent. Only a few ads touch the subject, preferring to, for example, reference requiring insurance companies to cover pre-existing conditions rather than reference the ACA directly.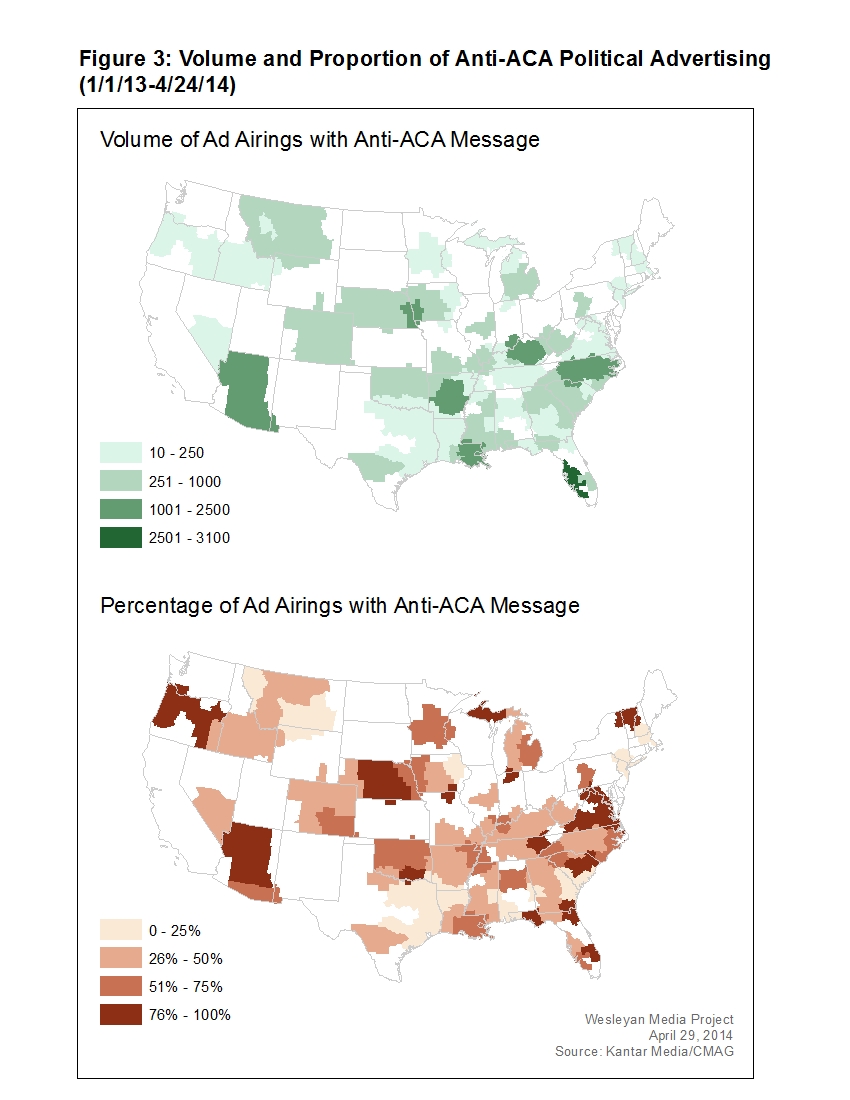 About This Report
Data reported here do not cover local cable buys, only broadcast television and national cable buys.  All cost estimates are precisely that: estimates. Content information is based on ongoing Wesleyan Media Project coding and analysis of Kantar Media/CMAG video.  Disclosure categorization information on interest groups comes from the Center for Responsive Politics.
The Wesleyan Media Project provides real-time tracking and analysis of all political television advertising in an effort to increase transparency in elections. Housed in Wesleyan's Quantitative Analysis Center – part of the Allbritton Center for the Study of Public Life – the Wesleyan Media Project is the successor to the Wisconsin Advertising Project, which disbanded in 2009.  It is directed by Erika Franklin Fowler, assistant professor of government at Wesleyan University, Michael M. Franz, associate professor of government at Bowdoin College and Travis N. Ridout, associate professor of political science at Washington State University.  Laura Baum is the Project Manager.
The Wesleyan Media Project is supported by grants from The John S. and James L. Knight Foundation  and Wesleyan University.  Data provided by Kantar Media/CMAG with analysis by the Wesleyan Media Project using Academiclip, a web-based coding tool.  The Wesleyan Media Project is partnering in 2014 with both the Center for Responsive Politics, to provide added information on interest group disclosure, and Ace Metrix, to assess ad effectiveness.
The Center for Responsive Politics is the nation's premier research group tracking money in U.S. politics and its effect on elections and public policy. Nonpartisan, independent and nonprofit, the organization aims to create a more educated voter, an involved citizenry and a more transparent and responsive government. CRP's award-winning website, OpenSecrets.org, is the most comprehensive resource available anywhere for federal campaign contribution and lobbying data and analysis.
Ace Metrix is the standard in creative effectiveness analytics for television advertising.  A venture-backed startup in Silicon Valley, the company identifies the effectiveness of television commercials through a patent pending algorithm that determines the persuasive elements of an ad and the future intention to watch the ad. Since 2012, Ace Metrix has scored over 1,000 political and issue/advocacy commercials representing over 500,000 consumer interactions.  The data can be filtered and sorted by age, gender, income, political activation, political affiliation and education.
Follow the Wesleyan Media Project on Twitter @wesmediaproject. To be added to our email update list, click here.
For more information contact:
Lauren Rubenstein, lrubenstein@wesleyan.edu, (860) 685-3813
About Wesleyan University
Wesleyan University, in Middletown, Conn., is known for the excellence of its academic and co-curricular programs. With more than 2,900 undergraduates and 200 graduate students, Wesleyan is dedicated to providing a liberal arts education characterized by boldness, rigor and practical idealism. For more, visit www.wesleyan.edu.
About the John S. and James L. Knight Foundation
Knight Foundation supports transformational ideas that promote quality journalism, advance media innovation, engage communities and foster the arts. We believe that democracy thrives when people and communities are informed and engaged. For more, visit www.knightfoundation.org.